CURRENT ISSUE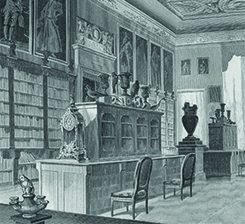 Articles
Karol Beyer's Album Wystawy starożytności i przedmiotów sztuki and Alexander von Minutoli's vorbilder für handwerker und fabrikanten. Between history and industry, p. 6–31

Karol Beyer (1818–1877), a Warsaw based antiquarian and photographer by vocation, self-published his first photographically illustrated publication in 1856. His work also became the first photographically illustrated book published and marketed in the Polish lands. The full-leather album with 30 hand-mounted salted paper prints showed photographed artefacts from the Exhibition of Antiquities and Monuments of Art in Warsaw. In its scope, it was concurrently ideological and commercial. As a business enterprise, the album will be considered as a means of exploiting financially the wish for national distinction in a time when Poland was erased from the political landscape of Europe. However, instead of a solely nation-based reading of the Beyer's book, the author will turn to international discussion on the nature of decorative or applied art and the idea to use it for the improvement of industrial design. Drawing on archival material and periodical press, this article presents Beyer's early undertakings in the context of the exhibiting activity and publishing ventures of the Institut Minutoli in Liegnitz in Silesia, and specifically, a photographically illustrated volume of Vorbilder für Handwerker und Fabrikanten.

Formation of the historical book collection of the Higher Theological Seminary in Tarnów in the 19th century, p. 32–67

The present article is the first to discuss the formation of the book collection of the Higher Theological Seminary in Tarnów in the 19th century and to provide a detailed overview of its content. It describes the complicated history of Polish ecclesiastical library collections that were destroyed, dispersed or, at best, taken over by other church institutions. Books from dissolved monasteries become the foundation of numerous libraries of theological seminaries. These collections are a valuable source of information about the mentality and culture of religious institutions (monasteries and collegiate churches) that created them, and played a considerable role in the formation of many generations of clergymen from the Tarnów diocese. Of particular importance are the book collections that belonged to canon Erazm Marcinowski and Szymon Starowolski made in significant 16th-century publishing houses in Venice, Rome, Cologne, Paris, Verona or Lyon. Within the Tarnów collection one can distinguish sets of books with common ownership or artistic features (binding, page decorations). The collection had a clear pragmatic purpose: to serve diocesan clerics for their studies. Its oldest and most valuable part, especially manuscripts and printed books from the 15th century, (from the Tyniec and the chapter library) were already of historic character and served only professors of the Tarnów seminary for their individual studies, as testified by handwritten marginalia. The preserved collections of books of both diocesan and religious priests constitute an excellent research field for a contemporary historian of Polish and European culture and literacy in the Middle Ages.